At Total Vitality Medical Group, we specialize in the treatment of patients that are injured in car accidents, motorcycle accidents, slip and falls and more. With over 25 years of experience, our doctors and staff are extremely knowledgeable in treating in all types of injuries. Our offices are fully equipped to treat and maximize your recovery. Total Vitality Medical Group's clinics are multi-disciplinary with medical providers, chiropractors and physical therapists under one roof. We work together to optimize your health and well-being. We are your one source for optimal healthcare after an injury.
Car accidents can be frustrating, unnerving, and stressful occurrences even whether the damage is severe or not. Dealing properly with the immediate aftermath of a car accident is a key factor to try to ensure the medical treatments are as favorable as possible. Everyone reacts differently to a car crash. Some people have pain right away or days after or even weeks after. Sometime even serious physical issues might not present any signs for several days or weeks. Pain conditions can range from headaches, neck injuries and back pain, arm and leg pain and other injuries that if left untreated will lead to serious complications.
We highly recommend that you visit our doctors immediately after a car accident so we can analyze your injuries and provide you with the urgent care and relief you need. Our doctors will help identify the source of your pain and find the best treatment and solution for you. We make a strong effort to prioritize appointments for patients involved in car accidents.
The Benefits of Total Vitality Medical Group: Care to the Victim of a Florida Auto Accident
The car accident doctor who operate Total Vitality Medical Group have met individuals with chronic pain who have stated "I was in a car accident that was pretty minor, so I decided not to do anything." This fateful choice by the victim of an automobile accident more often than not results in a long-term condition setting-in, the kind of condition that typically will cost a large amount of money to treat.
The medical team from Total Vitality Medical Group specializes in the expedient and non-invasive treatment of injuries arising from auto accidents of all sizes. The goal in each case is to minimize the need for go-to treatment options like a dangerous and addictive medication. Members of medical staff, instead, prefer to develop a plan for treatment that will employ spinal manipulation to realign the spinal cord and promote the release of natural healing factors, physical therapy as a rehabilitative measure or surgery if non-invasive treatment does not provide an appropriate level of relief.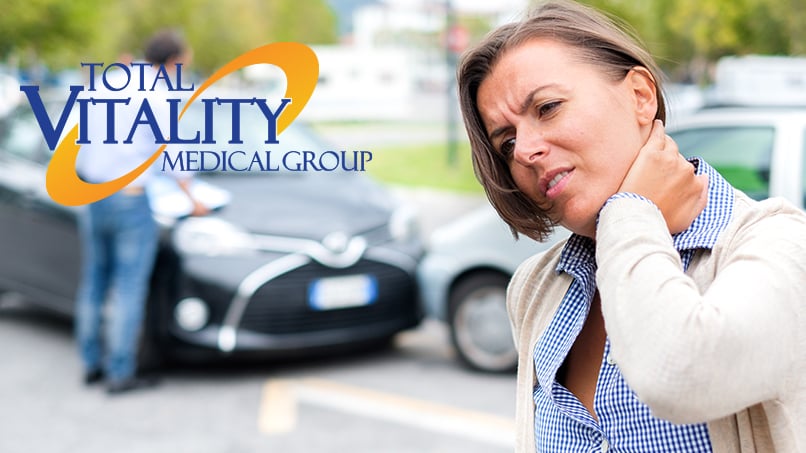 Get The Total Vitality Advantage
Treatment that is chiropractic in nature helps to lessen inflammation to the areas that have been stretched and torn, like:
In tandem with this chiropractic plan to minimize inflammation, or as a standalone treatment option, our medical team will also make an effort to incorporate a physical therapy plan that will:
Prevent additional loss to the range of motion

Improve diminished range of motion

Improve strength in the injured area and supporting muscle groups
The Total Vitality Medical Group treatment plan for each patient will always be tailored by medical staff and a medical director who will observe the condition and act as an advocate for proper care. The goal will be to improve the lifestyle and mobility level of the injured person.
The decision to seek care after a car collision is right when the victim of the accident does not want to suffer from long-term pain or suffer financially in the future. Here in Florida, it is unfortunate that countless victims of auto accidents, especially those who are worried that his or her role as the at-fault driver will mean that there is no insurance to pay for the chiropractic treatment of medical injuries.
The Floridians who make the decision to skip treatment after an auto accident do not know that if the driver of a vehicle or a passenger in one of the vehicles has suffered an injury in a Florida car collision, that PIP covers payment of medical bills including the bills for seeing a chiropractor.
Florida No Fault Insurance, or Personal Injury Protection (PIP), is a required insurance that will cover all parties involved in a Florida car crash, no matter who is truly at fault in the auto accident. PIP insurance will:
Cover up to the limits of your policy

Cover children, members of your household and specific passengers, who lack insurance and do not own a car or truck.
A person who is riding in your vehicle who possesses his or her own Florida No Fault Insurance will be covered under his or her own insurance policy for the injuries accrued in the auto crash.
Please note that under Florida Motor Vehicle No-Fault Law, all car and truck owners or registrants of a vehicle that has at least four wheels must carry at least $10,000 of PIP and $10,000 of property damage liability.
Common Car Accident Injuries
The doctors of chiropractic and physical therapists from Total Vitality Wellness Group who will develop a non-invasive treatment plan have come across a number of Injuries that are expected in auto collisions. Accident injuries that occur in our region, and more often than not require care include:
Whiplash is a forceful rapid back and forth movement of the neck and skull. The violent force of the collision has the ability to injure all of the following structures in the neck, head and spine:
Cervical muscles

Intervertebral joints

Nerve roots

Ligaments

Discs
The medical professionals from Total Vitality Medical Group will help relieve the pain caused by whiplash by working to improve the range of motion through physical therapy and realigning the spine before the damaged areas have the opportunity to irreparably heal incorrectly.
Treatment for whiplash rarely requires the services of our surgical center. However, surgery is an option in severe situations when neck or shoulder pain do not respond well to less invasive treatment.
A Pinched Nerve is pressure that is applied to a nerve in which the result is:
The car accident can cause a nerve to become pinched at any point in your body but the point most noticed by our chiropractors is the spine. This injury often occurs with a number of additional injuries or conditions. The treatment plan to improve quality of life from a pinched nerve in an auto accident will include spinal adjustment, the goal of this treatment is to force the nerve endings to relax.
Physical therapy is often a fantastic option to treat the symptoms of a pinched nerve. The physical therapist you work with from Total Vitality Medical Group will design a program consisting of both passive and active treatments to aid in recovery from the pain of the pinched nerve.
A Herniated Disc is often present when the spinal cord suffers damage and trauma. The damaged disc pushes on the nerves that are in the spinal cord. The injury becomes exponentially worse should the jelly-like inner substance in the disc leak out. This injury has the ability to be pain-free, but it is more likely that the victim will experience:
The treatment of a herniated disc will need to be tailored by our medical team to the symptoms present in a specific patient, but it can include:
Your Content Goes Here

Spinal manipulation

Therapeutic exercises

Manual Therapy

Flexion-distraction

Pelvic blocking
In situations in which a less-invasive approach has not resulted in reduced pain, a surgical procedure like a laminotomy may be required to achieve true comfort.
Total Vitality Medical Group Can Help After a Car Crash
The care that can be offered. by a chiropractic doctor or a physical therapist is a fantastic and non-invasive method by which to treat the lingering pain after a Florida auto accident. To find out about how our team of medical professionals can help after a car collision, or how PIP Insurance can pay for your care after an auto accident, contact us to schedule an in-person meeting.