Total Vitality Medical Group physical therapists understand that pain is the reality of an automobile accident, motorcycle accident, or a surgical procedure. Pain from injuries often caused by day-to-day life drive the patient to learn how to work around the pain, and inevitably the pain worsens as time passes. Therefore, for the patient to limit the potential long-term impact on life and the addition of more conditions, it is recommended that care be initiated with a physical therapist.
The fear of more pain keeps many people from making an appointment. This is unfortunate when you realize that working the physical therapy program provided by a PT is the only way back to recovery after the accident or surgery.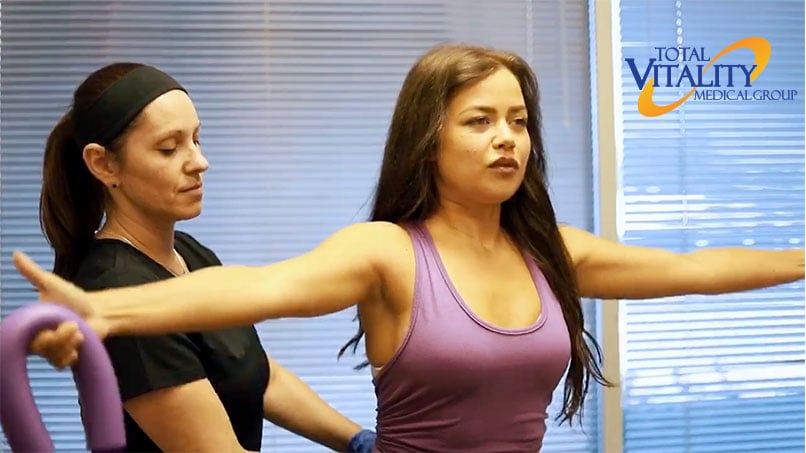 Regardless, physical therapy is key to the healing process. The planned exercises which incorporate stretching and strengthening help patients regain:
Balance

Muscle control

Range of motion
In this sense, a Total Vitality Medical group physical therapy program speeds the recovery process by strengthening muscles that are around the injured area. A physical therapist will present strategies by which to compensate in the short term and allow for use of the injured limb or joint. It is important to understand that the PT process allows a trained medical professional to see the injured area on a regular basis and new problems can be addressed.
This is not meant to imply that the Total Vitality Medical Group physical therapists will only implement strengthening exercises to aid in recovery. PT can and often does include use of electrical stimulation, ice and heat, and massage.
The Role Of A Physical Therapist
The PTs from Total Vitality Medical Group are trained and licensed medical care professionals who want to help patients minimize the impact pain has on day to day life. This practice will restore or improve range of motion and mobility for the patient. Each medical professional involved in a patient's PT care prefers to avoid surgery and the long-term use of potentially addictive pain medications.
Get The Total Vitality Advantage
A PT will develop a plan which has four primary goals:
Promote the ability to move

Minimize pain

Restore or improve function

Prevent disability
A PT from Total Vitality Medical Group will offer a program focuses on wellness and an overall healthier lifestyle. This is beneficial for a patient who makes the decision to see a physical therapist before the pain from a motorcycle accident has progressed into full-fledged condition.
Conditions A Physical Therapist Can Treat
The physical therapists from Total Vitality Medical Group can treat an array of conditions which include:
Sports related injuries

COPD, CF and post-myocardial infarction

Carpal tunnel syndrome and trigger finger

Musculoskeletal dysfunction

Neurological conditions

Pediatric conditions

Women's health issues
Tell Me More About Physical Therapy Treatments
The physical therapists and a medical director from Total Vitality Medical Group have worked closely to put together a number of treatment options for individuals who opt into physical therapy. Each PT will be prepared to explain the use of a particulate modality for therapeutic treatment and what to expect with each treatment.
Exercise is considered a controlled physical stress that is applied to build strength, flexibility, and range of motion. The exercise can be passive, in which a patient allows the body to relax and the Total Vitality Medical Group PT applies the stress. An active exercise requires that a patient perform it under his or her own power.
Ultrasound can be administered by the PT using an ultrasound machine introduces deep heat to treat musculoskeletal conditions like tendonitis, strains, and sprains. This method of treatment requires the physical therapist to apply a wand and move it in small circles near the injured area.
Joint mobilization requires that a physical therapist passively manipulates the joints in a patient's body in specific directions. This can help in minimization of pain and improve joint mobility. People tend to think a joint moves as a hinge however there is actually a gliding that also takes place. This gliding motion is the focus in joint mobilization.
Massage therapy is often employed in a PT program to decrease muscle tension, improve blood flow to the injured area and decrease pain levels. Massage techniques include:
Effleurage

Petrissage

Trigger point massage
Heat may be recommended by a PT for a patient who has suffered an injury. Heat will help to improve circulation to damaged tissues, relax surrounding muscles, and ease pain.
Ice is often employed during the phase immediately following an injury to decrease swelling around the injured tissues and minimize inflammation.
Hydrotherapy using a whirlpool is used to aid circulation and control inflammation. The hydrotherapy can be accomplished using cold or hot water.
Electrical stimulation can be used in some PT care plans to limit the amount of pain a patient feels. It is important to discuss this therapeutic treatment with the Total Vitality Medical staff to ensure a patient understands how it can helps recovery.
If patients have pursued a regiment of physical therapy but have not benefited from the help of a PT, the patient may need to work with the Total Vitality Medical Group staff to determine if surgery in our surgical center is a better option. When other options have been explored, in-house medical professionals will be able to review records and move forward with a straightforward recommendation regarding a surgical procedure.
Find Out How Physical Therapy Can Help you
The Total Vitality Medical Group physical therapy team includes professionals who are knowledgeable, caring, and dedicated to providing patients with the high-quality care they deserve. Each PT has a goal of helping the patient return to the regular activities they love, so the patient can enjoy their quality of life again.
The medical professionals from Total Vitality Medical Group also offer chiropractic care to individuals.
Get The Total Vitality Advantage